Best Board Games For Kids
What are the best board games for kids? Many board games are geared towards learning skills such as counting, reading, recognizing colors (for younger kids), and even increasing memory.
Smart-kid-educational-games.com provides ideas on the best board games for parents who care about their children's education.


Snakes and Ladders or chutes and ladders enhances counting skills. It is played between 2 or more children from ages 3 and up on a board with numbered grid squares. On certains squares are drawn the number of "ladders" connecting two squares together and a number of "chutes" or "snakes" connecting squares together. This game is very popular with younger children and is a great way to increase your kid's counting skills!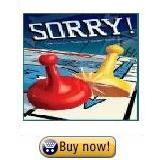 Sorry! is an an excellent board game for children from ages 6 and up, which is based on counting, luck and strategy. It is a cross and circle board game that is based on pachisi. Children draw cards, and move their game pieces around the board, and try to eventually accumulate all their pieces at the final destination: HOME. Players can send each other's pawns back to the starting line and part of the strategy is to force the other player to lose ground and begin all over again. This game can also be played by adults so it can be a nice way to spend a fun time with your kids.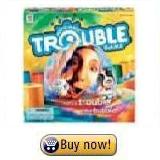 Trouble
is another board game that enhances your kids
counting skills.
This game has a pop-o-matic dice, clear globe with dice in the center, which when pressed rolls the dice. There are round holes where you put your color pegs (red, yellow, green, blue). The objective is to move all your pegs around the board, race to the other side and be the first to fill up the other board with your color. This game can be serious fun for both children (ages 6+) and adults.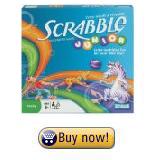 Scrabble Junior
is a very popular board game (ages 8 and up) increases you kid's
vocabulary
and
literacy skills
which will help him at school. There are Scrabble games for all levels (beginner,advanced, etc). The objective of the game is to make the most scoring words, in a crossword fashion, on the Scrabble board. You may be surprised how quickly your child acquires new words!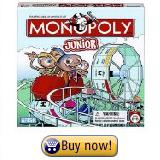 Monopoly and Monopoly Junior
is probably the world's most popular and one of the best board games. But you may wonder if it's actually good for children? Actually Monopoly is both educational and enjoyable. Kids learn to handle their money well and by doing so they learn to
count, add, subtract.
Monopoly Junior is especially designed for children of a younger age. In this version of the game, your kid joins Mr Monopoly, and his niece and nephew, in a fun amusement park.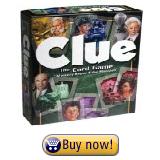 Clue Junior
teaches
deductive
skills. No reading skills are needed but this board game helps your kid
recognize numbers
. It is appropriate for kids ages 3 to 8. Clue Junior is different in that it can be played by younger children and that children are looking to discover who ate a piece of cake rather than looking for a murderer (the original Clue game).
Return from Best Board Games to Educational Games for Kids
Return from Best Board Games to Homepage



HOME | Site Map | For Parents | Activities! | Baby Games
Preschool Games | Educational Games Ages 5-8 | Ideas