Haba Fantasy Building Blocks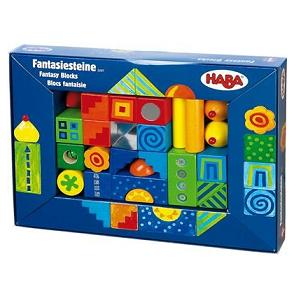 RECOMMENDED AGE: 1-3
SKILLS: MOTOR SKILLS, PROBLEM SOLVING
• With the Haba Fantasy Building Blocks, babies develop their fine motor and problem-solving skills.
• Babies have to figure out how blocks fit together.
• Safe for babies.
Buy from:
| | | |
| --- | --- | --- |
| | $ 59.99 | |
Haba Fantasy Building Blocks review
Building blocks for babies are a great way for babies to develop fine motor skills and problem solving skills. With blocks for babies they learn to recognize shapes and how they can fit together. With the Haba Fantasy Blocks, babies have a fun time and become creative by building towers, creating wooden roads. The blocks have bold colors and have bells, ideal in order to stimulate your baby's senses.


Similar Toys & Games