Melissa and Doug Alphabet Blocks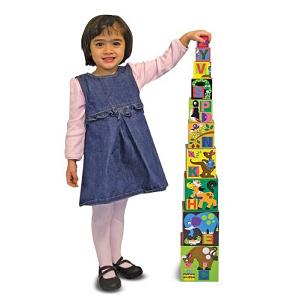 RECOMMENDED AGE: 2-4
SKILLS: ALPHABET
• The Melissa & Doug alphabet blocks helps toddlers learn the letters of the alphabet.
• Each block has a letter and an image associated to the letter.
Buy from:
Melissa and Doug alphabet blocks review
The Melissa & Doug Alphabet Nesting & Stacking Blocks are both very durable and lightweight. Your little one can play for hours with these easy to stack together nesting toy blocks. Another great thing about these nesting and stacking blocks is that they have the alphabet letters printed on them. Your toddler can learn to recognize the letters of the alphabet while playing for hours with the blocks. Each block has beautifully illustrated images on every side which toddlers can associate with the letter (for example the image of a rabbit for the letter "R").


Similar Toys & Games