Where in the World is Carmen San Diego?
Geography Video Games including
Where in the World is Carmen San Diego?
Geography video games are a great way for kids to learn about geography. In these games, kids travel around the world and learn about cities, countries and cultures all while having fun. If you have to buy a video game, what about getting one that also helps kids learn geography?
These video games are usually realistic and contain beautiful graphics. Kids get to see realistic images and videos of various parts of the world including continents such as Asia, Africa or Europe and various countries and cities. They also practice map reading and learn to identify continents and countries.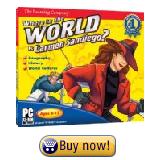 One of the geography video games that we recommend is
Where in the World is Carmen San Diego
(ages 8 and above). The game is designed by the Learning Company and is truly an educational video game. In this video game, players go after Carmen Sandiego and travel around the world. They learn about geography, interesting facts about cities, countries and various cultures and even learn some history in the process!
There is also a version that is focused on the USA. It is called Where in the USA is Carmen Sandiego? In this game, players travel around the US (as they chase Carmen Sandiego in the US) and hence learn about the geography of the US, states and capital cities.
In all these video games, players also practice map reading. Furthermore, all the games include breathtaking pictures of various places in the world and even music from various places that players can enjoy.
Educational Insights has another popular geography video games that is called
Jeopardy Geography
(ages 8 and above). By the way, this game is also used by teachers. It includes over 600 geography questions. Therefore, it is also a highly educational game.
Jeopardy Geography contains a vast electronic database that can be used to complete schoolwork or that teachers can use for geography classes. There are also interesting video clips, regional music and maps. This game is actually being used in classrooms which further proves its educational value.
By the way don't hesitate to visit our
geography games
page.
Return from Where in the World is Carmen San Diego to Geography Games