Educational Kids Toys - Magnetic Letters
Magnetic letters are very useful educational kids toys. Magnetic letters help preschoolers become
exposed to letters of the alphabet
and learn to spell words including their own name. Children can also learn to sort these magnetic letters in alphabetical order.
There are many magnetic letters set available at any toy store. For toddlers we recommend magnetic letters and numbers that are chunky enough to play. They usually are in upper case form. For older preschool children, there are magnetic letters sets that have both upper and lower case letters.
Sorting of magnets into piles of colors or lower case/upper case letters can be done by children as young as one year old. This teaches them color recognition and they also learn to become familiar with letters.
Older preschool children can practice putting letters in alphabetical order and even spell simple words like "cat" or "dog".
Another benefit of magnetic letters is that they are usually inexpensive. And children can practice spelling new words everyday in the kitchen and have fun.
Therefore, we highly recommend magnetic letters to parents who want their children to familiarize themselves with the letters of the alphabet early on.
Which magnetic letters set should you choose?


Made Safe Toys
The Ultimate
Toy Safety help center
, MadeSafeToys, features a top-rated
Toy Safety Checklist
.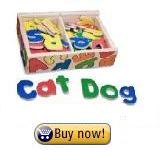 We recommend the Melissa & Doug magnetic letters. For children 3 years old and above, the letters are made of wood and the front is painted with a smooth, shiny enamel. The entire back of the letter is magnetic so you don't have to worry about the letters falling off. There are both upper and lowercase letters. The letters are large and like many of the Melissa & Doug toys, there are durable which is not often the case with other magnetic letter sets. Your child will love playing with them on the fridge or dishwasher.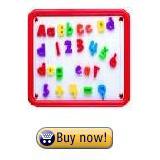 We also recommend the Educational Insights Magnetic Alphabet and Numbers. They contain uppercase and lowercase letters, and 20 numbers. The set also comes with math symbols that can be used when your child grows older. The Educational Insights magnetic letters are high quality, and unlike other sets, the magnets don't fall out of the letters. Furthermore, they stick very well on any board! If you're looking for educational kids toys, these magnetic letters are a good choice!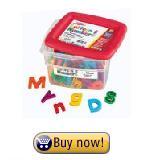 The Educational Insights AlphaMagnets and MathMagnets Combo Set are designed for children 3 years old and above. This set contains uppercase and lowercase letters, numbers and math symbols. Preferred by teachers, it is great for letter recognition. The magnetic letters are durable with very strong magnets. And they are available in two sizes with the jumbo pieces designed for younger children learning basic skills.
Return from Educational Kids Toys to Preschool Games