50 States Game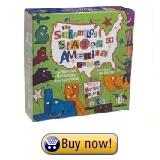 The
Scrambled States Game
also casually known as the 50 states game is a geography board game that makes learning about US geography fun and exciting! This game is designed for children ages 8 and up and helps kids enhance their knowledge of US geography all while having fun. Kids learn about US states and capitals, positions of the states and also how each state looks like.
The 50 states game includes 50 Scramble cards, 50 state cards, rules and 4 US maps. Players are dealt state cards that they try to match to a card turned over from the Scrambled card deck. Players collect state cards by matching states to a Scrambled card. For example, they might have to find a state that ends with the letter "N". They might also have to name neighboring states. For example, one card might say "state east of Arizona". Or they might have to guess a state by its color or a capital by the number of syllables that it has. For example, which state is brown? Or which capital has three syllables? If they can match it, they show their state card and shout the name of the state. The player that has collected the most state cards wins the game.
By the way, kids do not have to have prior knowledge in US geography as all questions are based on the cards in deck and on the US map. However, the game requires good observation skills and being able to react quickly. Overall, with this geography board game, kids study US geography without realizing it. They will first learn the name of the 50 states. And as they play more, they will be able to memorize the location of each state.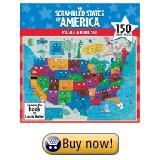 We also recommend the Scrambled States of America book and puzzle (ages 6 and above). The Scrambled States of America book is a really fun story about states swapping places so they can see another part of the country. At the beginning, the states are happy to change location. But eventually things start to go wrong: Minnesota moves to Florida and gets a bad sunburn; Kansas moves to Hawaii and becomes very lonely. Eventually all states become homesick and are happy to go back to their original places. Scrambled States of America is a great book to be enjoyed by both children and parents and a great way for kids to learn about US geography.
After you have read the book, you can work on the Scrambled States of America jigsaw puzzle. The 150 piece puzzle (18x24 inches) also contains 10 state-shaped secretly hidden pieces. With the puzzle kids will learn the name and the shape of states without realizing it. The puzzle box also contains a picture that you can use to complete the kids jigsaw puzzle. The puzzle won the Oppenheim Best Toy Award, which is another reason why we recommend it.



Return from 50 States Game to Chidren's Board Games
Return from 50 States Game to Homepage



HOME | Site Map | For Parents | Activities! | Baby Games
Preschool Games | Educational Games Ages 5-8 | Ideas