Painting Sets for Kids
With painting sets for kids, children express their creativity and learn about the various techniques involved in painting (for example, how they can create a new color by combining two colors). There are other benefits related to painting: children develop fine motor skills and good hand-eye coordination. By drawing letters and words on an easel, they can also learn how to spell new words (like their name or the words "house", "mountain", "ocean", etc). By the way, visit also our page about
easels
.
Younger children can learn how to paint by painting directly with their fingers ("finger painting"). There is actually paint that you can get that is only used for finger painting. As they grow older, children learn how to use a paint brush. Kids painting games and painting sets are designed for children meaning that the paint is safe (non toxic) and washable. So you don't have to worry about your child swallowing small quantities of paint or about paint stains on his or her clothes.
There are many type of sets that you can get. There are simple sets that contain only a palette with discs with watercolors. And there are sets with a whole range of colors and all the equipment that painter would need. These sets are for beginners meaning that they are great for children but they wouldn't be used by a professional painter.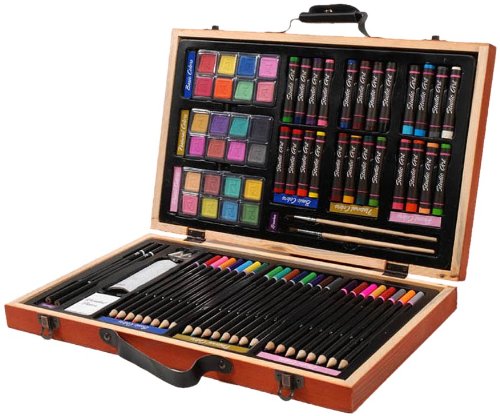 Darice 80-Piece Deluxe Art Set
Recommended painting sets for kids
When using the painting set, you should encourage your child to be creative. The more your child express him or herself, the better. Don't hesitate also to get
art books
designed for children and that can get your child interested in painting. For younger children (ages 4-11), we recommend the Young Artist Texture Painting Set. This is a simple set. It includes 5 colors of washable tempera paint, a painting brush, a palette and an illustrated instruction guide. The guide is useful as it contains a paint mixing chart (children learn to combine colors in order to create other colors) and useful painting techniques.
The Darice 80-Piece Deluxe Art Set (for ages 5 and above) is a more sophisticated set. This great set not only includes paint brushes and many various colors (oil pastels, watercolors), it also includes pencils, many painter's accessories and a portable case, ideal if you want to go paint somewhere outside. Overall, a great painting set for children and for beginners (adults that want to learn how to paint).





Return from Painting Sets for Kids to Homepage



New Comments
If you want to correct this page or just leave a comment, please do so in the box below.