Choosing the best child violin
Choosing the best child violin is not easy. The violin is a wonderful musical instrument that can introduce children to classical music and jazz. The violin is also a difficult instrument to learn, and therefore it can challenge children and teach them to excel. If you wonder what is the best age to play the violin, the younger the better. Children as young as 3 years old can play. However be careful not to leave a small child alone with a violin as he can hurt himself or herself with the sharp parts of the instrument.
If you want your kid to really learn how to play the violin well, practice every day is required. It is recommended that you get a private teacher. There are also DVDs for beginners available that can teach your child the instrument. You should pick the right size violin for your child. The size of the violin is determined by fractions such as 1/2, 1/4, 1/8, 1/10, 1/16, 4/4, 3/4, 4/4 being the full size violin. To determine which size you should get, you should measure your kid's left arm from the base of his neck to the center of the palm of his hand.
4/4 (adult size): 23 inches (12 years old and above)
3/4: 20 to 22 inches (usually 11 to 12 years old)
1/2: 18.5 to 20 inches (usually 9 to 10 years old)
1/4: 16.5 to 18 inches (usually 7 to 8 years old)
1/8: 15.5 inches to 16 inches (usually 5 to 6 years old)
1/10: 15 inches (usually 4 to 5 years old)
1/16: 14 inches or less (usually 3 year old)
You may think that having your child learn the violin is going to be expensive as you will need a new violin every two to three years as your child grows, but you can get relatively affordable and good violins (that produce a decent sound) online. They may not be made in Europe but they share the same design and they are hand-made. Renting a violin can also be another option. Be aware though that it might cheaper to just buy a violin rather than rent one that is actually worth around $200.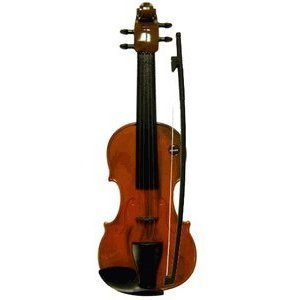 Toy violin
Toy Violin
For small children, we recommend the
Toy Violin
. With this toy, your kid slides the bow across the string which presses a button and plays different nice tunes. This toy violin is a great way for small children to familiarize themselves with the instrument before they move on to a real violin. The toy violin looks likes an authentic violin and is designed for younger children, so it is also very safe.
Barcelona Child Violin
If you are looking to buy a real child violin, we recommend the
Barcelona Child Violin
. The violin is hand-carved and made of maple wood. It also comes with a hard case, bow, rosin, bridge, and extra strings. Barcelona offers different sizes of violin (the one featured here is size 1/4) depending on your child's age.
Cremona Maestro First Violin
If you are interested in a quality violin, we recommend the
Cremona Maestro First Violin
(the one featured here is 1/4). The violin is hand-carved, uses premium wood and has a beautiful aged appearance. The violin also comes with a hard case that includes a hygrometer which monitors humidity.


Return from Child Violin to Musical Instruments for Children



New Comments
If you want to correct this page or just leave a comment, please do so in the box below.