Teaching the alphabet to our children is very important because the ABC's are
the building blocks of language.
For children to become literate, they must not only recognize each letter, but also know their order and the sounds connected with each letter. Once in possession of that knowledge, a child is well on his way to reading and literacy.
It is also important for children to begin learning the alphabet early and especially
before they start school.
We even recommend that children learn the alphabet before preschool age. We provide you with a list of fun alphabet activities ideas that help kids reinforce their knowledge of letters and the alphabet.
Create an Alphabet Book (Ages 4-5)
This fun activity helps teach the alphabet to your kid and increases your child's pre-reading skills. If you are looking to teach the alphabet to your kid this is a great idea and a nice way to spend an afternoon with your child.
Instructions:
Get a notebook, glue, and a magazine. On each page of the book write each letter of the alphabet. Then with your kid cut pictures of magazines. Glue each picture in the appropriate page. For instance a picture of a car goes to the page letter "C".
Benefits:
Your child can express his creativity. This activity also increases your child's pre-reading skills.
We also recommend that you visit
http://www.omniglot.com
, a website that describes The Pitman Initial Teaching Alphabet (i.t.a.) method which is designed to make it easier for English-speaking kids to learn to read English. I.T.A. is used in a number of British schools, in the USA and in Australia.
Alphabet Books That We Recommend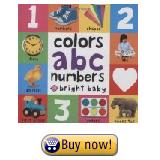 There are also alphabet books that can teach children the alphabet. For example, the
Big Board Books Colors, ABC, Numbers
(ages 3-8)introduces the concepts of letters, numbers and colors to toddlers and helps them build their early vocabulary. An ideal first book for younger children. This book is also a top seller and sold millions of copies worldwide. Read all the positive parents reviews
here
.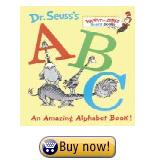 We also recommend the
Dr Seuss Alphabet Book!
(ages 4-8). Designed especially for younger children, each letter is featured with beautiful illustrations and text: "Lion with a lollipop", "Camel on the ceiling". Younger children can get a lot of letter practice with the repetitive use of each letter and the easy-to-memorize rhythmic rhymes. The Dr Seuss Alphabet Book is a classic and perhaps the best way to introduce a child to the alphabet.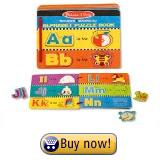 Another great book to learn the alphabet is the
Melissa & Doug Alphabet Puzzle Book
(ages 2-5). If you are interested in teaching the alphabet to your child, this is a really fun book. It contains many removable pieces and magnetic pages. Children match the letter of the alphabet with the corresponding picture. Before you know it, your kid will be reciting the alphabet! We highly recommend it!
Some of the activities ideas on this page have been graciously submitted by visitors like yourself. If you have an activity idea to add involving learning the alphabet, take a moment and submit it
here
. We will review it and you'll be taking part in creating the web's ultimate resource for activities ideas that both parents and children can enjoy.
New Comments
Have your say about what you just read! Leave a comment in the box below.
Return from Teaching the Alphabet to Recreational Activities
Return from Teaching the Alphabet to Homepage