Sentence Building Dominoes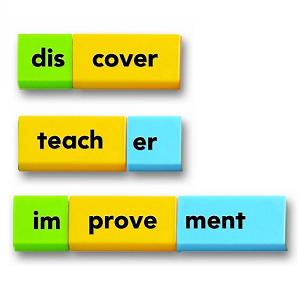 RECOMMENDED AGE: 7 and up
SKILLS: READING
• With these sentence building dominoes, children learn to read and write words and to form sentences.
• Can be used on magnetic board, cabinets or fridges.
Buy from:
| | | |
| --- | --- | --- |
| | $ 24.99 | |
Educational Insights Sentence Building Dominoes review
Sentence building dominoes usually include hundreds of color-coded dominoes. The dominoes feature words, nouns, pronouns, verbs, adjectives, punctuation marks, etc. By exploring the dominoes, children read new words and understand the different parts of speech. They improve their grammar and learn to express thoughts.

Educational Insights has the Word Building Dominoes designed for kids 6-7 years old. The dominoes are fun as children will enjoy forming sentences using the dominoes. Furthermore, the magnetic tiles can be used on magnetic boards, file cabinets or on fridges. Perfect if you want your child to start reading and forming sentences.

Finally, the Educational Insights dominoes are really well-designed. Children can literally create hundreds or sentences and even create short stories. Your kid could have a lot of fun leaving short messages on the fridge in the kitchen.

Skills developed: sentence formation, vocabulary, expressing thoughts
Sentence building dominoes are fun and they can improve children's sentence formation skills. By playing sentence building dominoes, kids not only learn new words but they become better at forming sentences and expressing thoughts.


Similar Toys & Games