Reader Rabbit Kindergarten Video Game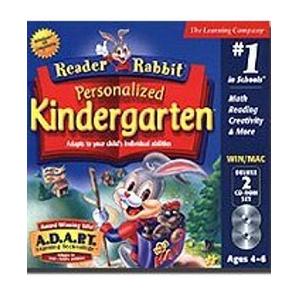 RECOMMENDED AGE: 4-6
SKILLS: READING, COUNTING
• The Reader Rabbit Kindergarten Video Game teaches counting , reading and more.
• Used in kindergarten classes.
Buy from:
| | | |
| --- | --- | --- |
| | $ 29.99 | |
Reader Rabbit Kindergarten video game review
The Reader Rabbit Personalized Kindergarten Deluxe video game (for ages 4-6) teaches kids a full range of skills including early reading, counting, numbers, measurement, time concepts and more. This game is actually used in many kindergarten classes which is another reason why we recommend it.

Skills developed: counting, measurement, early reading, time concepts
By playing this fun video game, kindergarten children acquire counting, basic math skills and early reading skills. They also learn about concepts such as time and measurement.


Similar Toys & Games