Vocabulary Games
After they have learned to properly read and write, children need to acquire a richer vocabulary so that they can better express themselves either in writing or in public. Furthermore, being able to use a diversified vocabulary is helpful in all fields of learning, be it literature, history, science, etc. There are many fun vocabulary games that can help children learn new words while having tons of fun. We have listed some of these games here. Even older children and adults enjoy playing these word games!
Scrabble Junior game
Scrabble Junior
(ages 5-10) is a fun board game that helps children learn new words and expand their vocabulary. What is great about this version of Scrabble is that the board game is two-sided. One side is for beginners and the other side is for more advanced players (instructions are provided).
Scrabble Jr is the children's version of Scrabble. Kids match picture words with letter tiles and collect chips. Whoever has the most chips wins. We also recommend that you get a Scrabble dictionary which is useful especially if you move on to the more advanced versions of Scrabble.
Bananagrams
In
Bananagrams
(ages 7 and up), players have to place lettered tiles from a pool (of 144 lettered tiles) into a crossword-style word arrangements. The goal is to be the first to complete a word grid after the pool of tiles has been used up.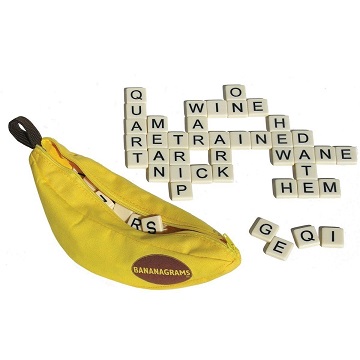 Bananagrams
If a player calls «Split», players have to turn over their tiles and show their letters to all the other players. Then each player has to arrange the letters in order to form words which have to be connected like in a crosswords in an intersecting manner.
When a player has used up all his tiles, he calls out «Peel» and each player must draw from the pool which contains the remaining tiles. If a player doesn't want to use his tiles at any time in the game, he shouts «Dump» and exchanges any of his letter tiles for other letter tiles. The first player to have all of their tiles into a word grid shouts «Bananas».
Bananagrams is a great way for children to enrich their vocabulary. It has been listed as a best seller by toy shops and one of the vocabulary games that is definitely a must have at home. Bananagram won many awards including the Top Toy of the Year award by Creative Child Magazine.
Boggle
Boggle
(ages 8 and up) is another one of the vocabulary games that we recommend and another way for children to learn new vocabulary. It is played with lettered dice inside a tray that are shaken and used to form words.
Players have to find as many words as they can using adjacent letters. The words have to be the longest possible (longer words earn more points) and be different from words that other players have found. Time is limited to 3-minute periods, good for kids with short attention spans.
In Boggle, kids can also improve their grammar, they can learn about plurals (they get double score if they add an "s" to a word). They also learn about the past tense and gerunds. For example, kids get extra points when they look for "tan" and "tanned" or "tanning".
The Boggle board game is also a great travel game. It is compact and can be played in a car or on a plane.
Apples to Apples
Apples to Apples
(ages 12 and up) is an excellent board game that promotes vocabulary development. In the game, each player is dealt seven "red apple" cards; on each is printed a noun or noun phrase. The judge lays down an adjective (or a "green apple" card) and places it on the table for everybody to see.
Each player then scrambles to find a card that they think is the best match for the green apple card. The words make great sentence starters and they are also great for demonstrating the multiple meaning of words. The judge is actually encouraged to pick the match that is the most creative and humorous which is guaranteed to amuse children!
There is also a junior version called Apples to Apples Junior (ages 6 and up) which has simpler words. Apples to Apples received many awards including the National Parenting Center's seal of approval and the "Mensa Select" prize and the "Party Game of the Year" award.




Return from Vocabulary Games to Homepage




New Comments
If you want to correct this page or just leave a comment, please do so in the box below.