Why are reading activities for children important? Reading is important because it is
absolutely necessary
in order to succeed at school. Reading can be a huge source of knowledge. And it can increase a child's thinking and problem solving skills. Reading enhances the development of spoken language skills and the ability for kids to express themselves.
Moreover, the more enjoyable reading is, the more kids will read and develop reading skills. And remember: the more a child reads, the better he gets at it. In this section we provide you with ideas on activities that make reading fun.
Reading with Flashcards! (Ages 7-8)
We like activities for kids that are fun and this one not only initiates your child to reading but it also increases his vocabulary and language skills.
Instructions:
Get a marker, white card stock paper and scissors.
Cut the white card stock paper in rectangle of about 3" x 2" (9 cms x 6 cms). Have your child write the 24 letters of the alphabet on each card.
Put all the cards in a paper bag. Have your child draw 10 cards from the bag. Encourage him to find words.
Repeat the process: cut even more cards and have your child write each letter of the alphabet on each card.
Put the additional cards in the bag. Pull new letters. Repeat the process until your child creates an entire sentence.
Benefits:
increases your child vocabulary, enhances his reading skills.
There are also books with reading activities that you can get online and that are also used by teachers. We recommend a book called the
Instant Independent Reading Response Activities
. The book contains 50 reading activities for kids (grades 2-4) that help children increase their interest in reading and develop both reading and writing skills. The activities require students to show their comprehension of the book. An ideal resource for teachers as children develop reading skills such as story mapping, sequencing, cause and effect.
Another book that can be used by both parents and teachers is the
Big Book of Reading Response Activities
. The book contains dozens of fun activities that are also easy to follow, graphic organizers, bulletin boards and numerous hands-on projects.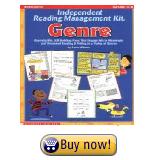 Finally, the
Reading Management Kit
is also another useful resource that can help children enhance their reading skills (grade 3-6). Especially designed to be used by teachers, it helps kids simplify management during independent reading time. The activity sheets are reproducible and they include easy to follow directions. Kids can also use samples to complete each activity on their own.
New Comments
Have your say about what you just read!
Leave a comment in the box below.
Return from Reading Activities to Recreational Activities