History Board Games
If you have a child who is not doing well in history class, history board games are a great way to get those grades up.
There are many board games infused with history themes that are fun and that can spark your child's interest in history. These games can open up children's imaginations and enhance their knowledge of history. There are board games for each particular time period or historical event. For example, there are games that cover US history or time periods or events in US history such as the Civil War or the American Revolutionary war. Other games which kids really enjoy cover ancient times, for example Ancient Rome or Ancient Egypt. There also board games that cover the entire world history, meaning that they go from prehistory to ancient times to modern history, and they help kids acquire general knowledge.
History board games are usually in the form of trivia games. Players answer questions about a specific event in the past or a specific period in history and move chips on the board. The rules of the game and the types of questions being asked usually make the game fun. The player who finishes first is the one who wins the game. Most of the times, these games are tailored by age group, so make sure you get a game that matches your child's age so that it doesn't get too challenging (which defeats the purpose of getting your child interested in history).
One advantage that these games have is that they are relatively cheap. They can also really take you back in time and be a whole lot of family fun. You don't have to spend thousands of dollars on a trip to Rome to get your kid interested in Ancient Roman history!
We are selecting two board games. One focuses on US history and the other on world history. Both are recommended because they are both very popular and educational.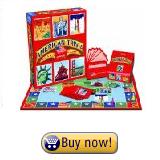 A great board game for your child to learn about US history is the
American Trivia
(Junior Edition) by Outset Media . Designed for kids ages 8 and above and for 2-8 players, this board game is a fun and informative way for children to learn about US history. The game includes interesting questions about past events in US history that players have to answer. A great way to spend some quality family time as parents can also enjoy it.
Another game that we recommend is
This Day in History Board Game
(ages 12 and above). This game covers the entire history of the world. Players have to put historical events in order from the oldest to the most current event. Usually they have to put from two to eight events in chronological order. The player with the best arrangement advances faster than other players and eventually finishes first. What makes the game fun is that there is some strategy involved in the way players pick and use their cards and that up to four players can play the game.
New Comments
Have your say about what you just read!
Leave a comment in the box below.
Return from History Board Games to History Games
Return from History Board Games to Homepage