Dinosaur Games For Kids
Dinosaur games for kids are a great way to get kids interested in science, biology and paleontology. Children are fascinated by animals and especially animals that they don't know or that are extinct. Have you noticed how children are drawn by movies such as Jurassic Park or how they love those theme parks with a dinosaur theme?
Kids curiosity leads them to ask interesting questions. And when it comes to dinosaurs children tend to have lots of questions. They want to find out how tall and heavy some of these creatures were. They want to find out about their habitat. What they used to eat. They are also interested in dinosaurs that have similarities with some of the animals that exist today. For example, what about dinosaurs with feathers that can fly? By learning about dinosaurs, children can also develop hypotheses and critical thinking. They can develop observation skills as they learn to identify dinosaurs such as the T-Rex, the Triceratops or the Spinosaurus.
A list of dinosaur games for kids
You can either scroll down or choose from the list below: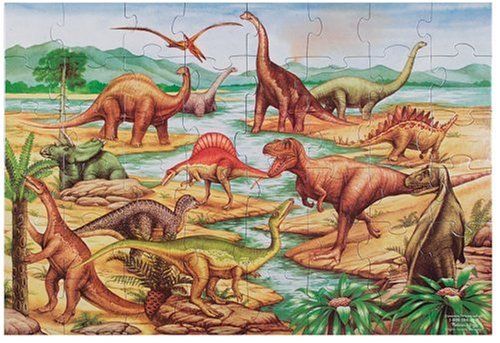 There are many dinosaur games for kids that you can get. For younger children, we recommend that you get a dinosaur puzzle. The
Melissa and Doug Dinosaur Puzzle
(ages 2 and up) helps kids concentrate as they work on the puzzle and teaches them to recognize different dinosaurs. The puzzle is beautiful and full of realistic looking dinosaurs. For older children (ages 4 and up), we also recommend the
Extra Large Floor Puzzle
. A 4 feet long puzzle, kids can spend hours completing it and learning about the extinct creatures in the process.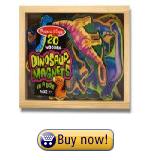 For younger children, we also recommend
Melissa and Doug Magnetic Wooden Dinosaurs
(ages 2 and up). Made of beautiful colors, the dinosaurs also look realistic. Children can use these on a magnetic wall or on a metal cabinet to create dinosaur scenes and learn to identify dinosaurs. These magnetic dinosaurs can also make for nice decoration in a child's bedroom. For decoration, you can also get the Jumbo Dinosaurs by Learning Resources. The dinosaurs are realistic looking and helps kids recognize various dinosaurs as the set includes t-rex, brachiosaurus, stegosaurus, triceratops and raptor models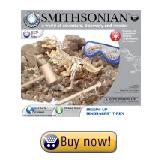 Among our favorite dinosaur games for kids, we include the
Smithsonian Diggin' Up Dinosaurs
(ages 8 and up). The manufacturers recommended age is 8 years old and above, but in this case we believe that even younger children can thoroughly enjoy this game. Kids become paleontologists and conduct their own archeological dig. They dig the skeleton of a T-Rex using detailed instructions and they assemble it almost like paleontologists would. The skeleton model can then serve as decoration in the child's bedroom.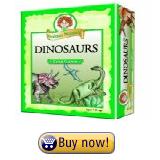 Dinosaur games for kids in the form of dinosaur card games can be a lot of fun and one that we recommend is the
Professor Noggin's Dinosaurs
(ages 7 and up). This game encourages kids to learn about dinosaurs. It's a game in form of trivia with questions on dinosaurs that keep kids interested and having fun. We also recommend it as a family game. Another of the dinosaur card games that we like is
Brainbox Discover Dinosaurs
(age 8 and up). It is a concentration and memory game that also helps children learn about dinosaur facts. Children have to remember details on a card and various facts in ten seconds. You may wonder how kids can have fun with just a few cards but with Brainbox games they really do and they learn in the process.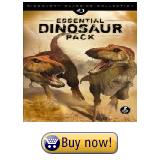 We also recommend dinosaur videos and dinosaur documentaries for kids that can be both educational and very entertaining. For younger children, we recommend
Sesame Street: Dinosaurs
. Dinosaur videos can introduce younger children to the world of dinosaurs. And this one actually has an educational value as it covers the different kinds of dinosaurs and some interesting facts about them. If you are looking for dinosaur videos for older children, we recommend the
Essential Dinosaur Pack
by the Discovery Channel. It contains more than 8 hours of dinosaur programs including the complete Emmy Award winning Dinosaur Planet. These breathtaking dinosaur videos can be enjoyed by the whole family and include interesting dinosaur facts and stories explained by the famous paleontologists.
Return from Dinosaur Games for Kids to Educational Games for Kids
Return from Dinosaur Games for Kids to Homepage