Ancient Egypt books for kids can get children interested in everything related to Egyptian history from the Great Pyramids to the Pharaohs, Egyptian art, the hieroglyphs (and how they were first deciphered by a French man named Champollion), the Gods that Egyptians believed in, the mummies, the Book of the Dead and all the mysteries surrounding this incredible ancient civilization. We have selected two books, the first one by DK Eyewitness Books and the second one by National Geographic. Both are designed for children (meaning that they are fairly easy to read) and both are filled with beautiful images and illustrations.
Book #1: Ancient Egypt DK Eyewitness Books
Ancient Egypt by DK Eyewitness Books (for ages 8 and above) has a book that is filled with information and has hundreds of beautiful illustrations and images of Egypt. The book also comes with a CD mostly containing images and a poster (for the child's bedroom). The book describes what life was like in Egypt then, for example how people were dressed, what they ate, what they believed in, the tools that they were using, how society was organized.
It also covers some of the most important Pharaohs including Ramses, Akhenaton, Tutankhamon, the pyramids that they built and their various accomplishments. It discusses agriculture and how the Nile river was being used. Children get to enjoy beautiful images of pyramids, tombs, excavations, furniture and art dating back from the time of the Pharaohs.
Book #2: National Geographic: Kids Everything
Ancient Egypt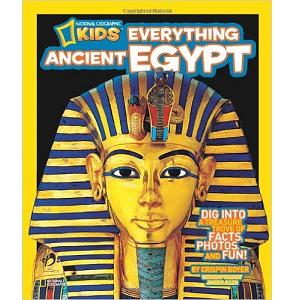 National Geographic Kids Everything
Ancient Egypt
Another of the Egypt books for kids that we recommend is
Kids Everything Ancient Egypt
by National Geographic (for ages 8 and above). This book is very educational and contains lots of fascinating facts that children can enjoy. The book covers the Pharaohs, religion in Ancient Egypt (including the Book of the Dead), what life was like for ancient Egyptians then. The book is filled with beautiful photos of Egypt that will leave kids fascinated by this amazing ancient civilization.
Both these books are great learning tools if you have a child who is studying Egyptian history. There are also books that can be used by teachers in the classroom. In any case, these are books that can be thoroughly enjoyed by children as they discover the amazing Egyptian civilization. By the way, these books are great birthday gifts ideas especially for a child who is interested in history.
New Comments
Have your say about what you just read!
Leave a comment in the box below.
Return from Ancient Egypt Books for Kids to History Games
Return from Ancient Egypt Books for Kids to Homepage