Top Selling Toys: Sorting and Stacking Toys
Stacking toys and sorting toys are among our top selling toys and come in a wealth of varieties including stacking cups, stacking blocks and stacking rings.
These toys have a significant educational value. They are important for basic hand-eye coordination and for cognitive development. But they are not only about sorting and stacking. They can teach children many different kinds of skills.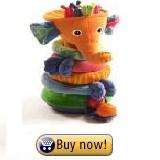 Sorting and stacking toys for younger children (ages 2-3) can teach the concepts of size, height, depth, sequence and colour. We recommend the Tiny Love sorting and stacking toy
. It is a toy that can help your baby understand some of these concepts (e.g. size, sequence) and stimulate your baby's senses as it integrates lights, sounds and textures.

Sorting toys can also be used for physical development if incorporated into physical games. For instance, for toddlers, you can organize a "ring hunt": hide the rings in the living room and have your kid run around with a bag looking for them.
Toys for older preschool children (ages 4-5) can help kids practice numeracy by counting the parts, adding and taking away. Other sorting and stacking toys can help children learn the alphabet. For instance, wooden alphabet blocks can be used to stack and also teach the alphabet.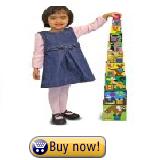 Melissa & Doug also has great stacking toys. One that we really recommend is the Melissa and Doug nesting and stacking blocks
. Very durable but also lightweight, this nesting toy blocks can keep your little one playing for hours all while learning to recognize the letters of the alphabet. Each block has beautifully illustrated images on every side which toddlers can associate with the letter (e.g. a rabbit for the letter "R").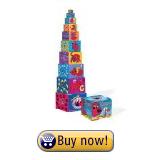 Another sorting and nesting toy that we recommend is the
Clifford The Big Red Dog nesting and stacking blocks
.It helps toddlers learn the alphabet, count numbers, and identify objects. The stacking toy is also very sturdy, so you don't have to worry about your little one damaging the product.
Don't hesitate then to get such a toy for your kid. It can really
positively impact
his development!
Return from Top Selling Toys to Baby Games