Parents as Teachers
Parents help children succeed in school!

Expert studies have shown that the role of parents as teachers is essential in the child's education from an early age. Researchers in the field believe that parents play a vital role in a child's learning. Thomas Jefferson to Joseph C. Cabell in 1818:


"If the children . . . are untaught, their ignorance and vices will in future life cost us much dearer in their consequences, than it would have done, in their correction, by
a good education."



Parents can plan fun activities with their children

Parents can not only help with the school homework but also plan fun activities that keep their children reading books, visit a museum with their kids or simply go for a walk to the post office and transform it into a lesson in geography.
Take this example: imagine a simple walk to the post office. It could start at home with a map. You and your child sit down and plan this walk to the post office. You can for example start by teaching your kid how to read a city map.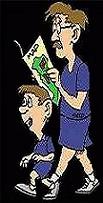 Then on the way to the post office, spot interesting locations and point them on the map. At the post office, explain to your child where and how far the letter will be traveling. Later at home look at a bigger map together to find the letter's final destination. This is an idea on how you can transform a simple walk into a fun and interesting lesson in geography.


We provide you with lots of ideas on enjoyable learning activities that you can plan with your children. Check our SMART ACTIVITIES! section. Don't hesitate also to submit your own!

If you are looking for parenting advice, we recommend this website: Consistent Parenting Advice. Discover the simple but profound difference clear, firm and consistent parenting will bring to your family. Learn how to enhance your children's happiness and self esteem while developing your own emotional maturity as parents.


Stages of Child Development
Knowing early child development will help you in your efforts to
Educate Your Child
Homeschooling
"Successful kids usually have high self-esteem."
Parents can create a positive learning environment at home that makes learning fun. By creating such an environment, they can help children improve their homework skills and make them enjoy school and learning. Visit our
cheap school supplies
and
homeschooling
sections.
Parents as teachers can start by teaching kids organization and time management. Parents as teachers can help with the school homework and monitor the child's progress. They can help the child cope with issues, for instance whenever they encounter a roadblock at school. And remember: successful kids usually have high self-esteem.
But the parents' role is not only limited to that. Parent involvement can increase the child's confidence and enthusiasm for learning. Parents as teachers can also inspire their children and foster a love for learning.


What are the consequences of your child not having a good upbringing? Think about the consequences of having an uneducated child. And think about all the benefits of having a child that succeeds in his life.
We provide you with a list of interesting articles on child upbringing and some of the most important issues faced by parents (for example, is TV, the internet good for your kid?).

If you have a homeschooling experience to share or advice to share, don't hesitate to submit your comments here.



Need Advice on Homeschooling?
Essentials of Homeschool-living
is dedicated to your homeschooling family. Find encouragement, free worksheets and practical knowledge gleaned from 21 years of home education experience. Topics include the four temperaments, discipline, literature, order, electives (especially p.e. and crafts/art), ideas for everyday, holiday and support group activities.
For excellent tips and tools in organizing your home and family visit organizeourfamily.com. You will find everything you need to organize family budgets, family cleaning schedules, family holidays and much more!


Return from Parents as Teachers to Homepage
HOME | Site Map | For Parents | Activities! | Baby Games
Preschool Games | Educational Games Ages 5-8 | Ideas