Melissa And Doug Alphabet Stamp Set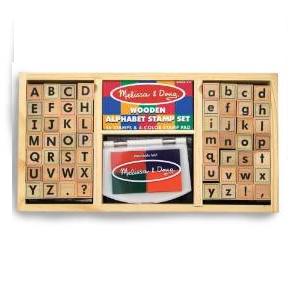 RECOMMENDED AGE: 4 and up
SKILLS: ALPHABET, READING
• With the Melissa and Doug alphabet stamp set, kids learn the letters of the alphabet.
• Contains both upper and lower case letters.
• Over one million kits sold worldwide.
Buy from:
Melissa and Doug Alphabet Stamp Set review
What we like about the Melissa & Doug Deluxe Alphabet Stamp Set (for ages 4 and up) is that it contains letters in both upper and lower case and that it even contains punctuation signs.

We also like the wooden box provided which is great for storage. Four colors are included with the stamp pad. The ink is safe for children and most of all it is washable. And as with most of Melissa & Doug products, the product is sturdy and very good quality and can be used for a long time. The only negative that we found is that the storage box has no lid, but a small negative overall considering how good this product is.

Skills developed: alphabet, reading, creativity
By playing with the alphabet stamp set, preschoolers not only learn the alphabet but also develop early-reading skills. For example, children can learn to stamp words or even their own names. Children can also develop their creativity by creating works of art with their stamps.


Similar Toys & Games