Lego Building Blocks
Lego building blocks: a little bit of history
Lego building blocks were invented in the late 1940s in Denmark but it's only in 1958 that the Lego brick as we know it today was developed. Did you know that the 1958 bricks still interlock with those made in our time? Since 1958, Lego has become very popular around the world and has released thousands of sets tested by both parents and children! The sets are designed to appeal to children. There are many themes including historical themes (vikings, castle, wild west), town and city themes, etc which encourage children's creativity. Lego building blocks also help enhance fine and gross motor skills as younger children put blocks into place.
There are sets for every age. For younger children, Lego building blocks are usually larger in size. For school age children, Lego blocks are smaller in size and can become quite complex and can have thousands of pieces. Some Lego sets go as far as including motors, lights and gears.
Lego building blocks can also help children develop social skills as they play with other children and work on a project. Developing social skills is a key aspect of children's development.
A list of recommended Lego games
Lego Duplo:
For toddlers and preschoolers (ages 18 months to 5 years), we recommend the
Lego Duplo
. This is a simple set and thus an ideal starter set for toddlers. The pieces are large so that they are safe and can be used by smaller hands. There are enough pieces for kids to express their creativity.
Lego Set Ultimate Building:
For children ages 4 and above, we recommend the Lego Set Ultimate Building. What we like about this set is that it includes a container that allows for storage. It also includes building instructions for 5 models that lets younger children build a house, a car and more. Another benefit of this set is that it can be incorporated into other Lego sets as your kid expands his collection. If you are looking for a larger set, we also recommend the "Deluxe" version.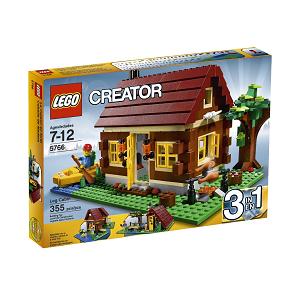 Lego Creator game
Lego City:
For slightly older children (ages 5 and above), we recommend the Lego City set. This set is a little more challenging as it has lots of details and includes many small pieces. Kids build an entire street corner that includes a pizza parlor, fire hydrant, street lamps, a city bus, and various shops. This set has an educational value as children engage in role playing and solve real life problems (like building a structure). Kids usually love this set, don't be surprised if you see your kid spending hours on it.
Lego Creator:
For children ages 7-12 , we recommend the
Lego Creator
game. Children build a beautiful country retreat or a log cabin. The set has lots of great details (for instance, wooden logs, roof tiles, opening windows, a canoe).
For more information on Lego games, we also recommend that you visit these sites:
New Comments
Have your say about what you just read!
Leave a comment in the box below.
Return from Lego Building Blocks to Preschool Toys Guide
Return from Lego Building Blocks to Preschool Games