Infant Games:Play Mats For Your
Baby's Physical Development
If you are looking for infant games, we recommend that you start with play mats (or play gyms) for your baby's
physical development.
With play mats your baby practices different movements such as reaching for objects, lifting the head, sitting up (and standing up when he reaches the appropriate age). Some play mats also have electronic devices that teach babies words and songs. They also usually contain stuffed animals, mirrors and different toys (for instance rattlers) and have different themes. Your baby can then engage in many activities that accomodate each growth stage. Therefore, playmats also help your baby make connections, learn new words and learn from different experiences.

Play Mats Skills:
physical development
motor skills
brain development
language development
For safety, make sure that the playmats are sturdy so that they don't cause any accident. Make sure also that they do not have strings that can be dangerous or lead paint.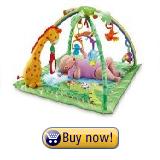 Smart-kid-educational-games.com
recommends the Fisher Price "Rainforest Melodies and Lights Deluxe Gym". Why? This playmat can stimulate your baby with music, lights, nature sounds, games, etc. It also includes a spinner with rattling beads and a shiny mirror (good for your baby's hearing and vision). You can easily get the playmat at any toy store or you can order it online
here
.
If you have an experience to share or baby toys to recommend, don't hesitate to submit your comments
here
.
Return from Infant Games to Baby Games
HOME | Site Map | For Parents | Activities! | Baby Games
Preschool Games | Educational Games Ages 5-8 | Ideas