Fisher Price Riding Toy: 
Ready Steady Trike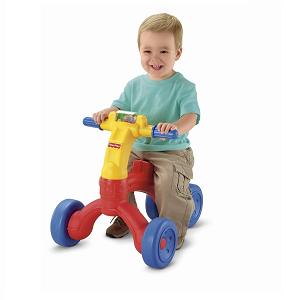 RECOMMENDED AGE: 1-5
SKILLS: PHYSICAL DEVELOPMENT
• With this Fisher Price riding toy, toddlers exercise their legs.
• Safe, nicely designed and easy to steer.
• Great value for money.
Buy from:
| | | |
| --- | --- | --- |
| | $ 34.99 | |
Fisher-Price Ready Steady Trike Ride-On review
With the Fisher-Price Ready Steady Trike Ride-On toddlers use their little legs to move the ride on toy. Toddlers can strengthen their leg muscles and gain the confidence needed to begin walking.

The toy has a wide seat for sitting stability and a wide front-wheel so that the riding toy doesn't tip easily. Of all the ride on toys, we believe that this one is one of the most stable and most easiest to get on and off and to ride around. This toy is also great value for money!

Skills developed: physical development
By riding the toy, toddlers strengthen their leg muscles before they begin to learn how to walk.


Similar Toys & Games