American History Games
If you are interested in your kid learning about US history, American history games are a great way to get your kid excited about the subject. With these games, children learn about dramatic US events and stories. These games can also challenge children and push them to ask questions about the history of their great country.
Did you know that children with a good knowledge of history tend to do better in school? History can assist kids in developing writing skills and even public speaking skills. Because learning about the past can help getting opinions and ideas across with greater clarity. It can also help them excel in fields such as law or public administration as they progress through their education.
A good understanding of American history leads to a better understanding of the country. Children comprehend the development of national institutions and trends. Learning American history also helps them develop a sense of national identity. As they find out about the victories of the American Revolutionary War, children acquire a sense of national belonging. American history games can thus tell the national story and drive home an understanding of our national values. By learning about American history, kids also learn to become good citizens.


One game that encourages kids to learn about the history of the United States is the Professor Noggin's History of the US (ages 7 and above). The game includes questions in the form of trivia that keep kids challenged and having fun. This American history game is a great way to help with your kids education. In the Professor Noggin's series, we also recommend the Professor Noggin's American Revolution and the Professor Noggin's President of the US (ages 7 and above). A great way for children to test their knowledge in the American Revolution and to memorize past US Presidents.
If you are looking for North American games for kids, we also recommend this website:http://www.historyforkids.org/learn/northamerica/before1500/games, it provides information about games played in North America. It is also a great kids' encyclopedia, that kids can use for school reports or for homeschooling!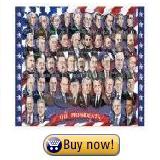 The Melissa & Doug Presidents of The USA Floor Puzzle (ages 6 and above) is a fun and easy way for children to learn about all 43 US Presidents and recognize their faces. In this puzzle, each President's portrait is shown with his name underneath. As in many of the Melissa & Doug's products the puzzle is very durable and the graphics very realistic and beautiful. If you are looking for a puzzle game, your kid will have so much to gain with this one.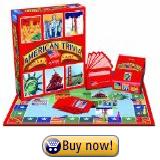 Another fun and informative way to learn about the United States is the
American Trivia Junior
(ages 9 and up). This is a board game with trivia questions. But unlike most other trivia games, this one features mostly knowledge-based content. The questions promote useful learning and can really strengthen what children learn at school.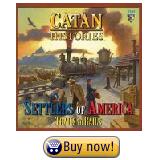 Finally, if you are looking for a fun game that can get your child inspired and interested in the history of the Old West, we recommend the
Settlers of America Trails to Rails
(ages 8 and up). Children build railroad and cities as they head west. The artwork is very attractive. Overall, a great way to get kids to enjoy US history and the Old West theme.
For activities on American history for kids, visit also this website:
http://www.havefunwithhistory.com/activities/index.html
Return from American History Games to Kid Learning Games

Return from American History Games to Homepage



HOME | Site Map | For Parents | Activities! | Baby Games
Preschool Games | Educational Games Ages 5-8 | Ideas