American History DVD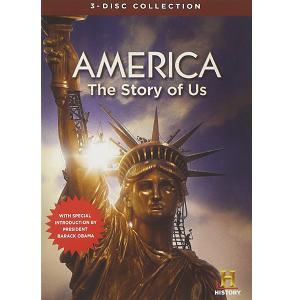 RECOMMENDED AGE: 8-17
SKILLS: AMERICAN HISTORY
• This American history DVD covers the entire history of the United States.
• Must-have DVD at home.
Buy from:
| | | |
| --- | --- | --- |
| | $ 24.99 | |
America - The Story of Us review
America - The Story of Us covers the history of the United States from 100 years after Christopher Columbus steps foot on American soil to today. This History Channel documentary covers the American Revolution, the Declaration of Independence, the western expansion, the development of the railroad system in the 19th century, slavery, the Civil War, and has biographies of historical figures such as George Washington and Henry Ford.

The DVD set contains 12 episodes in 3 discs for a total running time of more than 9 hours. The reenactments are great and the graphics really compelling. By the way, another of the History Channel documentaries that you can get that covers US history is called "The Revolution".

Skills developed: American history
By watching this entertaining documentary, children get a good overview of American history and gain an interest in the history of the United States.


Similar Games